Dateline: August 9, 1995, Nashua, New Hampshire, elevation: 169'
Y E L L O W S T O N E   P A R K / J A C K S O N ' S    H O L E,  W Y
B M G   T O U R S  
M U L L E N   E X P E D I T I O N
| | | |
| --- | --- | --- |
| | "For The Benefit and Enjoyment Of The People" | |
July 22 thru July 29, 1995

The "Group"
Scott & Mary Barner: Trailboss and the Missus; their two children: Jacob Evan and Caroline Rose.
Woody, Kate & Brad Goslee: The original "invited" family for this expedition.
Dan & Annie Mullen: The first who begged to be included.
Doug & Thelma Mullen: Doug wanted in on the action; Thel... she wanted to see the family (I think she could have very easily given up the camping).
Peter & Christine Mullen: Sounded like too much fun to pass up!
Nancy Mullen: A trip she hadn't done yet, and had been wanting to get west of the Mississippi for ages.
We had two, 7-person, Ford Windstar vans; one tan(ish), one red(ish). The support vehicle was Scott's truck. That pulled the pop-top where he, Mary, Jake and Carly would sleep, and it held most of our gear (i.e., clothes, food). We were a 3 vehicle caravan to Montana.

SATURDAY - July 22
All parties of the expedition have arrived safely and without incident. After settling in, and getting on our bathing suits, we lounged at the pool. While having cocktails and hor de'ourves poolside, we had the tee shirt ceremony. Everyone was impressed and pleased with Dan's artwork! They all got a kick out of the Jameson nips too. We celebrated by having a huge turkey feast that Mary had cooked on the grill. The Easton contingency was quite tired from a full day of traveling, and as we had an early start in the morning, we all went to bed early.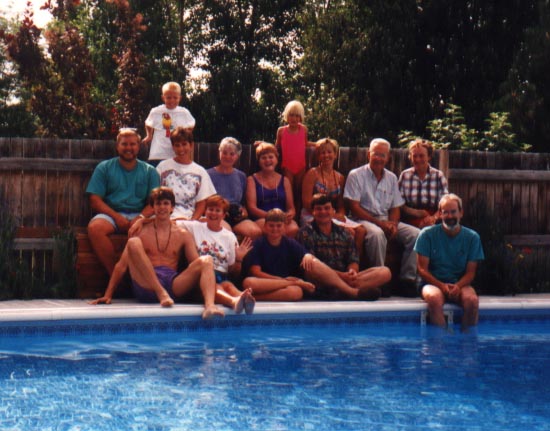 SUNDAY - July 23
We hit the trail at approximately 7:00am. The plan was to drive up to Ogden, Utah and then do a drive thru breakfast and get back on the road. Some of us were a bit disheartened to see that McD's was the only option available to us. ;-) (It was actually quite good, tho).
We arrived in Idaho at 9:22am. After having fun at a truck stop to get fuel, refreshments and take a bio break, we were back on the road. We stopped for lunch (cold cut sandwiches) at Targhee National Park. We found a dirt road off of the main road, and pulled in. It was a lovely sight that opened to a small clearing that was teeming with wildflowers and the sure signs of wildlife having been there shortly before we arrived (i.e.: deer droppings -- By the end of the trip we were all skilled at identifying bison and elk droppings. :-) ).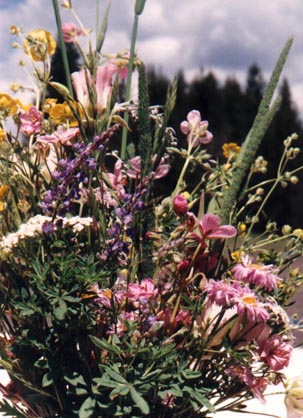 Scott spied a deer on the way in to the clearing. Christine, Carly, Jake and I picked about 8-10 different types of wildflowers and one of the Mickey D's coffee cups left from breakfast made a lovely vase. The weather was perfect; mid eighties and sunny and bright. Kate had made some wicked good low-fat brownies for dessert. After 45 minutes or so, we're back on the road.
Our trailboss led us thru the West Entrance to Yellowstone Park on the way to our cabin in Montana, which was just outside of Gardiner, MT. We were able to see much of the devastation in this section of the park that the great fire of 1988 had brought to Yellowstone, it was beautifully eerie. We weren't in the park long before we came upon 6-8 Bison, and some Elk grazing in the meadows that run along a section of the Grand Loop.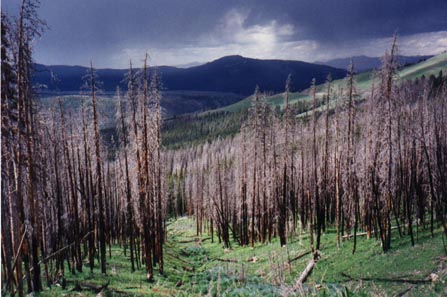 After a 5.1 mile drive up a winding dirt road off of the main highway, we arrived at our cabin in Montana. It was a very large cabin that was built in 1924 for the U.S. Forestry Parks Service. In it's day, it must have been quite grand. It had two bedrooms, a main room with a wood burning stove, a large kitchen with a fabulous old wood burning stove/oven, and a bathroom (that was not functional, but had been at one time), and a front and back porch. It slept 11 people in twin beds and bunk beds, all this for $20.00 a night!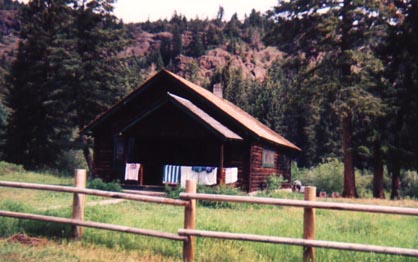 Had it not been for the condition we received it in, I might have called it "charming", but alas, it was really pretty dirty. I honestly thought I would not be able to sleep in there due to my asthma that would no doubt flare up because of my dust allergies. But I had my inhaler, so I was prepared.
Some of us took the mattresses outside and beat them but good, and then swept out the dirt and dust as best we could. It would have to do, and it did, just fine. There was a beautiful stream out back, but it was way too cold to "bathe" in. The water was maybe 50 degrees. Our out-house was across the road and that wasn't so bad, the rangers had thoughtfully put up three different posters, one each of Birds, Insects, and Butterflies.... It didn't smell to bad either -- the first couple o' days... :) I was glad it wasn't really necessary to close the door, I mean really, there wasn't a whole lot of traffic going thru. Although there was a dude ranch that we passed on the way to our cabin. They had electricity, running hot and cold water, and all kinds of luxuries. We didn't like them much. They had obviously missed the whole concept of getting back to nature. Bunch o' wussies.
Well, we all claimed a bunk to call our own for the next couple of days, and settled in. I cracked open my bottle of Jameson shortly after our arrival. I figured the best way to `enjoy' the cabin would be in an "Irish-mist-haze."
We had a great dinner of chicken cacciatore (we were very fortunate that Kate and Mary had the time and fortitude to prepare all of our meals ahead of time so that we could pretty much just "heat and eat" every evening). After dinner, the trailboss took out his guitar and we sung around the campfire. Then it was off to bed so that we could arise early and hit Yellowstone for the day.
MONDAY, July 24
We were up early, and after a breakfast of ham and egg on bagel sandwiches, juice and coffee, we headed to Gardiner (just outside the North entrance to the Park) to tank up the vans and use the bathrooms. Down at the other end of the street closer to the park's entryway, was a great place for caffe latte's -- I was in heaven. Right next door was a Laundromat with a "flushing" toilet; hot and cold running water; and electricity! Life was good. Every day was begun in this fashion.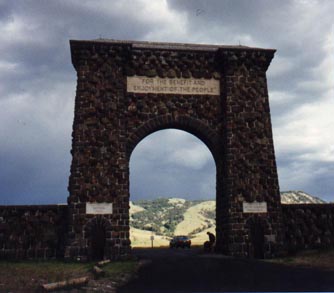 We started our sight-seeing at Mammoth Springs, the first settlement in Yellowstone Park. This was really something. The hot waters transport a form of limestone to the surface where it is deposited like so much sugar frosting to build and decorate the terraces, it has made one heck of a monument out of this area. The "terraces" looked so man-made, but it was all mother nature. There is also a 37' high and 20' diameter natural "cone" called Liberty Cap. At one time water flowed from the opening in its top.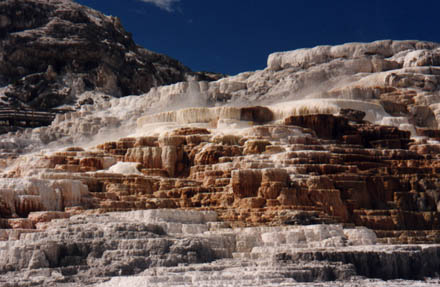 After Mammoth we headed over to view the Petrified tree (there were three of them at one time, however "souvenir-hunters" literally chipped away two of the trees completely) which is now enclosed by a fence, this is to discourage any would-be hackers from molesting it. The fence must be working, the tree is still there, but the fence is somewhat of a joke. I don't think it's more than 3' tall. A small child could squeeze thru the bars.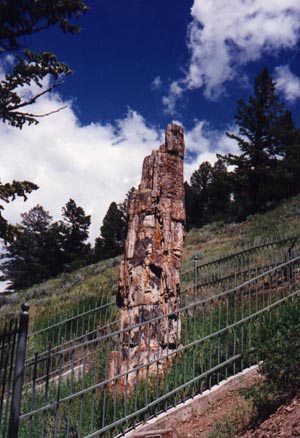 Stopped for lunch at Tower Junction, (Hamilton General Store is here) where the "Tower Fall" is located. It was a very impressive sight, the "fall" cascades 132 feet onto the rocks below. It was about a mile long hike, round trip, and that was just about right; the high-altitude made breathing a bit difficult on steep inclines. Carly was anxious to reach the top, and so was I. We lost the Ruby van after the Tower Falls hike, and decided to do some exploring on our own before heading back to the cabin, as it was still quite early in the day. We found out later that evening that they all saw a bear in their travels.
Nancy, Peter, Christine, Doug, Dan and I drove thru Dunraven Pass (elevation: 8,859 feet - the highest elevation on the entire Grand Loop Road) which took us very near to the summit of Mount Washburn (el. 10,243). If we had chosen to hike up to the summit we would have viewed the rocky crags that constitute the summer range for the Bighorn Sheep, and we may have even seen the Grand Tetons, which are 100 miles away! But we didn't. We saw Elk and so many beautiful wildflowers, among the beautiful panoramic vistas of Dunraven Pass. We stopped, and got out of the car at one point to view the dead burned-out lodge pole pines and the pristine meadows and hills behind them. It was so beautiful the way the new growth was coming in around the dead trees, it had a very lush and clean look. We even made snowballs (which we pitched at Doug) from the snow that was still there next to a fast-running mountain stream. Doug didn't pay us any attention, he was too busy having a heart-to-heart with his camera which was behaving in a finicky manner. It rained a little bit on us, but not for long. The views from up there were awesome. We could see were it was raining about 10-20 miles (maybe farther even?) away from us.
Further along we came to the Grand Canyon of the Yellowstone River. We parked and went over to get a splendid view of the Upper Falls, it plunges 109 feet to the river below. From there, Nancy, Peter, and Christine went to the van to relax a bit. The altitude was taking it's toll on us. Doug, Dan and I wanted to view the Lower Falls, so we took "Uncle Tom's Trail" down and up to one of the resting platforms, it was just spectacular and breathtaking (in more ways than one!), the Lower Falls drops 308 feet and sends a misty spray against the green moss walls of the canyon. In the late morning and early afternoon the sun reflects a rainbow in the spray; I was lucky enough to see it and get a picture of it. The canyon walls are mostly yellow in color, but there are also hues of blue, red, orange and brown. This is due to the rhyolite rock and oxides of its minerals, especially the iron. We ran out of film and the weather looked threatening, so we decided to head back to the van where the others were waiting for us. I would have liked to have spent more time there; it was, IMHO, the nicest area of the Park thus far.
Coming upon numerous cars parked on the side of the road, we did the same to see what all the hubbub was about. Elk: 6 or 8 of them. These majestic animals were grazing and not paying the humans any attention. We were able to get rather close for pictures. It was hard to count the points on the bulls, but I believe we saw a few 7-point bucks. For those, not in-the-know, a 6-point buck is called a Royal Buck, a 7-point: Monarch, and 8-point: Majestic.
These animals were really large, they looked to weigh about 600-800 pounds. Their "velvet" racks were very impressive.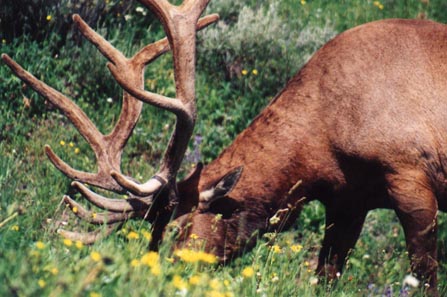 By late afternoon we were at Norris Geyser Basin. We were getting tired, but Kate had told us about Echinus (ick-inn-es) geyser and how impressive it was.
We wandered down the path till we reached it. It was due to go off between 5:45 and 6:15pm. Dan didn't think we should stay for it, as it might not have gone off till the late end of the estimated time and the skies were threatening to downpour on us. I really thought we should stay, we'd never seen a geyser before. We decided to stay. Dan ran back as the geyser's pool was filling with water, so that Peter, Christine, and Doug could come down to see it with us. Nancy was tired and decided to take a rest and remain with the van. The Echinus went off at 5:55pm. It was most impressive. The pool started bubbling, then spewing up water about 2-3 feet, then 5-8 feet, then it blasted away at about 50 or 60 feet. It has been known to go as high as 75 feet. It went off for about 10-11 minutes. It was a good show!
Well, it was getting late, and we didn't want to miss dinner, so we hustled back to the van and scooted off to Gardiner, where we stopped for some wine and Jameson. Alas; we couldn't purchase hard liquor on Sunday or Monday! Silly, stupid law. The kid at the store told us we could go to a bar and purchase a bottle from that establishment! Yeah, right. We could wait. We got wine.
As luck would have it, we didn't miss dinner. Scott and Woody were fishing, so we helped out with dinner as best we could and had a great meal of Beef Stroganoff, and fresh zuke and summer squash. Brad, Jake, and Carly toasted (more like charred) marshmallows for all of us. yummy. It was a wine/beer/martini/Manhattan evening. No guitar tonight.
TUESDAY, July 25
Our day started bright and early with some awesome buttermilk pancakes, and steaming hot coffee.
| | |
| --- | --- |
| Today we covered a good portion of the Grand Loop. Along the way we were entertained by a coyote in a marshy kind of field. He was tracking down something, we watched him jump straight up and pounce down numerous times. We hoped he got whatever it was that he was after, he worked hard for it. | |
One of the highlights of our day was encountering a HERD of buffalo (Nancy was becoming convinced that the park only had about 6-8 of these beasties and that the rangers were moving them around the park for our amusement!)! This was incredible. It looked like there were at least 1000 of these giants (the park has somewhere between 3,000 and 3,200). Scott thought it would be fun to get a better look, so many of us followed our fearless trailboss out across the field and thru the creek to get a better look at these bad boys. We stopped a good distance away at the crest of a small hill, so we were lulled into a false sense of safety. We enjoyed looking at all of them. We saw two bulls fighting, a bull and cow copulating, and then we saw a few bulls taking a dust bath! All of a sudden the rangers voice thundered out of the blue (actually he was using the bullhorn from his station house which was across the road from where we parked and hiked out to see the buffalo). "The people in the middle of the field: RETURN TO THE ROAD NOW." Well, I immediately turned and started scampering back to the van; I think I was half way back by the time he repeated his command. Luckily, we didn't get scolded too badly or tossed out of the park. He was more concerned with some folks that wandered out to the part of the plain that was on the same level as the herd. He told us that when bison start taking "serious" dust baths that they are getting anxious and agitated, and the rolling around precedes a stampede. We sure didn't need to witness or be part of that!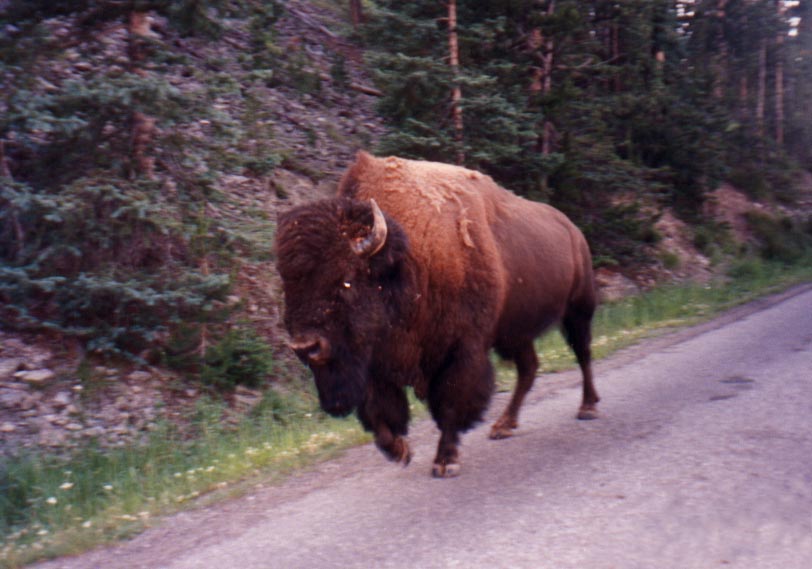 On the way to Firehole River, a bison decided to walk up and across the road; he held up traffic for a while. If the van's windows opened, we could have touched him, I swear. Finally reaching Firehole River we were all anxious to get into that river which was fed by hot springs (making the water warm enough to enjoy completely). We had the biodegradable soap, we were ready. The water was divine. I washed my hair 3 times. Boy did that feel good. The current was unbelievably strong. It was difficult to hold your ground. When I was washing up, I saw Doug go floating by me and right over the short falls that weren't too far from me. I *thought* he was having a good time. Actually he had no intention of going over the falls; it wasn't fun. Dan went over accidentally also; it wasn't fun. Kate went to grab Jake to keep him from going over the falls, but didn't make it; they didn't have fun either. They all had many fine bruises from their adventure with the killer-falls. The place was crowded with people of varying ages, families, couples, and groups of teens hanging out. There was a trio of guys seriously into playing their bongo's for everyone: I'd wished they'd had a larger repertoire.
Some of the teens were diving off of the stone cliffs that surrounded the top of the lake where the hot springs enter. This was strictly forbidden, but they looked like they'd been doing it for hours, and having a good time. We spent an hour here, from 4:30 to 5:30.
Throughout our day we saw an abundance of natures beauty and wildlife. We saw two Sandhill cranes, and a great big pelican in the Yellowstone river, and more Red-tailed hawks than we could keep track of.
The ride home for those in the champagne van was treated to a sighting of a deer, and a family of Blue Grouse, we saw this on the 5.1 mile drive up to the cabin, which we now fondly referred to as "home."
Had another great dinner; spaghetti, fresh veggies, and garlic bread. Tonight was tequila night, Christine hadn't done shots before, so Scotty tutored her. I hadn't done shots with pickle juice (rather than the traditional lime/salt) before, so Kate and Mary had me try that, they said that a friend of theirs drinks it like that. yeah, sure.... I'll stick to limes and salt. ;-)
Wednesday was to be a "free" day in which we could decide then what we wanted to do. Many of us wanted to do the same things, so we'd start off as a group.
WEDNESDAY, July 26
Awoke at 7:45 to Thunderboomers that sounded like they originated right outside the windows. We thought surely it would rain, so we moved the cooking gear into the cabin to make breakfast. We had eggs, sausage, toast, juice and coffee. It never did rain, it cleared up and was another perfect day.
We wanted to see more geysers, so we all went to the Norris Basin Geyser area. Some of us were here Monday, but now we had the time to see more of the area and the hot springs and vegetation within the thermal area. The landscape was so bizarre, it looked like another world. Steam coming up out of the ground everywhere. There are boardwalks, much like the ones at the Cape Cod National Seashore, so this made the walk easy, and enjoyable. We saw lots of interesting geo-thermal features: mud pots, fumeroles, hot springs, and geysers. Most of the water in the area is near boiling but algae can still live in it. The temperature of the water dictates which algae survive and different algae species have different colors. Thus the varying water temp makes for interesting color displays. We all went back to see Echinus geyser again, and Nancy was able to see the top of Echinus' spray, from her bench at Steamboat geyser (which only goes off *big* time when it feels like it, the last major eruption was October 4, 1991, and it was 400 feet high).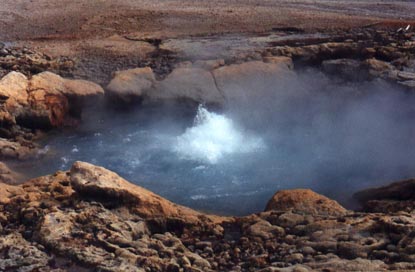 We had lunch after this @ 3:30, then Doug, Peter, Christine, and Dan wanted to go for a hike, so they took the champagne van and headed over to the Mammoth Springs area to do a 3-5 mile hike.
Scott and Woody took the kids with them and headed back to the cabin to do some fishing.
The girls (Thelma, Mary, Kate, Nancy, and me) went shopping in the Park. We hit the general stores and a couple of the speciality shops within the park. We didn't spend that much time shopping, there wasn't all that much that was offered. Kate and I did get some nice earrings tho. :)
We ran into the champagne van on the way back to the cabin. We had stopped to see some bighorn sheep on the cliffs, and they stopped to see them too. We were surprised to see them, they should have still been hiking.
They said they'd been walking for about 20 minutes when they came across the very old remains of what might have been an elk. There wasn't much was left of the beast.
One of reasons for taking the hike was to get away from the hordes of cars and people so when the trail turned and began to parallel the road, they agreed to bushwhack a while to regain their solitude. While they were still bushwhacking they came across some overturned rocks and another carcass. This time the remains were fresher (no meat but the skull and some fur were still there) and they were fairly sure it was an elk. Not long after that they came to another marked trail and were faced with a choice of left or right. Peter suggested left and they began traveling along a ridge. Although they had seen many signs of a bear in the area, none were really expecting to see one. However, as they were coming to a dip the ridge that had a slight clearing Peter spotted something at the far edge of the clearing and they all stopped and tried to make out what it was. It was a bear! Fortunately the Mullen's were both upwind and uphill from the bear. The bear, which was about 100 yards away, either never saw them or chose to completely ignore them. Either way the hikers had ample time to watch the bear foraging through their binoculars or, in Doug's case, a camera lens. While they were thinking of what to do next the bear left the clearing heading away from the group and the hikers decided to head away from the bear and back to the van. After much discussion of this back at camp, it was decided that they saw a black bear in it's brown phase (they have 3 phases: black, brown and cinnamon).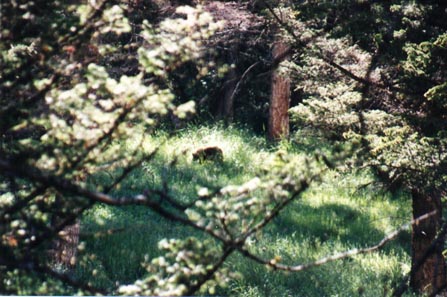 The kids were hanging out at the cabin and playing in the stream. Brad dropped a pretty heavy rock on his toe and cut it up pretty good, but he took care of it and went along with his day. (I think he's gonna lose the toe nail!) Scott and Woody had good luck fishing, they caught a couple of cutthroat trout which they cooked up at dinner time -- I tried some of it; it was delectable, and I don't particularly like fish.
We had chili (with Elk meat) and cornbread for dinner, it was great. Hit the sack early, as we were heading off to Jackson bright and early in the morning.
THURSDAY, July 27
We were all ready to go by 6:45, and we had till 7:00! Boy were we getting good at planning and preparedness! We were all a bit melancholy to be leaving. It really was a beautiful area. Near the end of the road, just before hitting the main drag, there was a group of horses in the field. They were all quite close to the dirt road that we were coming down. Well, there was a mare with her young colt, and we got to watch as the the colt was feeding. It was a touching scene, very serene and warm; a real Kodak moment.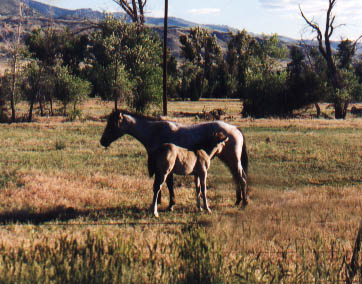 Old Faithful was a stop we had planned on when leaving the park. It was quite grand. This is the area of the park that most all tourists come thru. Most of them don't bother with much more of the park, and that's pretty sad, as there are other parts of the park that are so much lovelier. Old faithful spouted at about 130' when we saw it go off. It was pretty neat. Did a little shopping and then headed down the road and didn't stop till we got to Yellowstone lake. My goodness that lake is BIG. The altitude of the lake is 7,731', the maximum depth is 390', the shore line takes up 110 miles, and the water surface covers approximately 139 square miles or 88,960 acres! Yep, it's a big one. Had a really nice marina (in case you happen to be there with your boat).
We drove thru the Grand Teton National park, what a mountain range! The are very impressive. There are no foothills to the Tetons they just appear right at the end of meadows, that makes them appear even more magnificent. We also saw a huge bull moose! We were able to watch him for about 10 minutes. Some bimbo had it in her mind to get close enough to try and touch him. Ah, I was so hoping the moose would get annoyed and trample her; no such luck though. All she managed to do was scare him off so that he was no longer visible to us.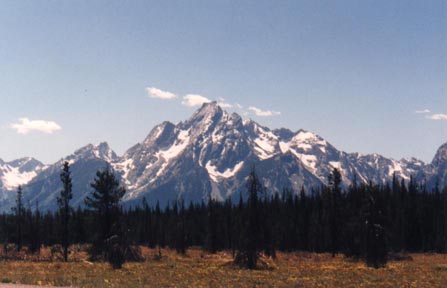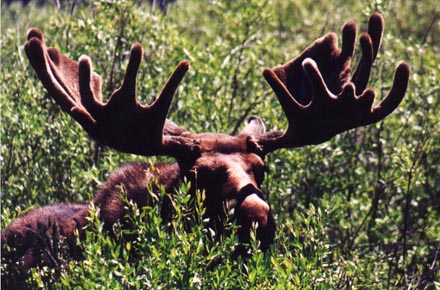 Arrived at Jackson's Hole approximately 4:30pm. We stopped in at Dave Hansen's White-water rafting trips to re-confirm our float for Friday morning. We were doing both the scenic and white-water trips. Nancy was joining us for the scenic part, and would then wait out the rest of the trip with the bus driver, while we went along and did the white-water. From there we went up the road a piece to the Motel 6. It may as well have been a palace! HOT SHOWERS, electricity, TV... wow.
The Barner's, Goslee's, and Doug and Thel were going off to see the "shoot-out" in town. The rest of us weren't interested in attending, thinking the show would be too long, so we rested up a bit and then went out for a slow, leisurely dinner. We went to a place called "The Acadian" it was a cajun/creole restaurant, and we had been talking about cajun food in the car this very afternoon! It was quite delightful. We tried some shrimp and crawdad etoufee for an appetizer. It was TDF! Nancy had the pan-blackened catfish almondine, Christine had fresh veggies and cajun chicken on pasta, Dan had red beans and rice with a cajun style sausage, I had andouille sausage with fresh tomato and basil sauce on pasta, and Peter had ? hmmm.. I forget. We drank two bottles of Merlot with dinner, and then decided to have coffee and ONE dessert for the 5 of us. They only had one dessert -- bread pudding-- and it was scrumptious! It was very much like a cinnamon bun drenched in a butter cream sauce. If we'd ordered 5, we would have eaten them, good thing we didn't. After dinner we went to the liquor store to pick up a bottle of Jameson for Doug, and tooled around town a bit. We thought for sure the rest of the gang had gone over to the fair grounds (the County Fair was in full tilt) to attend the rodeo. We just knew we'd be asleep by the time those wild ones got in. Lo and behold, we got in at 10:30, and they had been asleep for an hour already! The "shoot-out" only took about 5 minutes (in previous years, it was a wee bit longer), and then they headed off to a steak house for dinner and then went back to the motel. The kids went swimming for a little while (Yes, we had a pool, and all our rooms nearly surrounded it), and then they all tumbled into bed.
FRIDAY, July 28
The bus was picking us up at 8:10 to take us to the river for our "float." Our bus driver was Donovan, and he was a very nice fellow. He ran a tight bus, a comparison much like our trailboss, and we were good doo-bees, following his instructions as they were given. He told us we'd be on the river by 9:00. On the way we saw two bald eagles. Such a majestic bird! I'd never seen one in the wild before. Although, I'm told that I can go over to the Anheuser-Busch brewery in Merrimack and see them there, along the river! I'll have to check that out.
We got our windbreakers and life vests, and our Guide: Mark. He gave us instructions on how to paddle the rafts, and told us that we'd have to work together as a team in order to have a successful trip. He explained much of what we'd be doing on the scenic portion of our trip. We all piled into the 14-person raft with Mark, and proceeded down the Snake River. It is a very swift running river. It was a beautiful morning, and almost immediately Mark pointed out a Bald Eagle sitting in a tree right aside of the river. What a sight, we saw 3 or 4 others along the way. We also saw an Ospry fly by, and then shortly after another Ospry flew overhead, circled above the river just ahead of us and then SLAM! he hit the water with a large splash, he was underwater for what seemed like 10 minutes, but it was only about 3-4 seconds. He popped up out of the water, paused momentarily to get his bearings and then flew off with a good sized cutthroat trout clasped in his talons. This was an experience that I will not forget. It was simply riveting to watch. We saw a few more eagle's nests and Ospry nests, but nothing else compared to the Ospry fishing for the rest of the scenic float. We hit the part of the river where Nancy was to leave us for the rest of the ride. I'd considered sitting it out with her, but realized that if my 6 year old niece and my mother-in-law could handle the trip, I guess I would have to too. I'm glad I did. It was a blast. It wasn't nearly as terrifying as I had imagined it would be. Only twice I felt like I might have fallen out of the raft, so I grabbed the "chicken-line" for good measure. I initially had a great spot in the raft. I was third from the front (behind Woody, and Mary), saw some fun action but didn't get totally drenched with tons of blinding water. Then the up-front folks came up with the bright idea that some of us might want to get up closer to the bow. Mary had Peter and I trade places with Woody and her. so Peter was first, with me second. Well, that was too much water for me, and for Peter too; he ended up in my lap on the next rapid! I was thankful I wasn't behind Scott or Woody. Peter is quite "slim" so it wasn't so bad. ;-) Well after that fun, we switched places again. I ended up in fourth position, in front of Doug, who was last on my side. Well, I'd say that Doug, me and Thel (who was in last position on the other side of the boat) ended up on the deck more than we would have liked. The back end of the boat gets "whiplashed" a lot -- keep that in mind if you've never been white-water rafting and are planning a trip. Dan had the first position for a while, and he was loving every minute of it. He then took the second position, which was good for him too. He wore a large grin the whole rest of the trip. Yeah, we'll be going rafting again, I'm sure.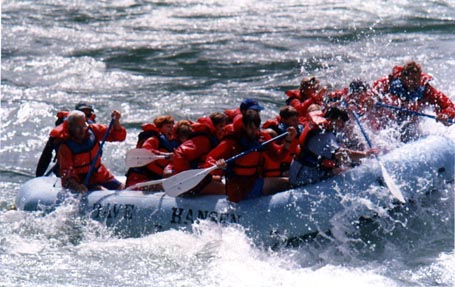 Donovan and Nancy were waiting for us at the end of our journey, we then hiked up the hill to the bus and Donovan took us to a private picnic area for lunch. We were back at the Motel around 2:30~ We took showers and then some of us headed into town to do a bit of shopping and stop at the outfitters that took pictures of us as we were going thru "lunch-counter" rapid. Well we went back and forth a few times and finally decided on a pretty good shot of everyone smiling and having fun. Thel and I are hanging on to the chicken-line, so we're not too crazy about this picture.
Dinner was at Bubba's, a BBQ and rib joint in Jackson. It's a BYOB restaurant, and well, it became second nature grabbing drinks out of the coolers all thru our vacation, so this was a breeze. Altho... Scotty became tired of going out to the cooler for drinks every 10 minutes, so on his last trip out to the van, he decided to just bring the coolers in! Well I gotta tell ya, I don't think Bubba's had had a rowdy crowd like us in some time. We weren't exactly quiet, subdued, or well-mannered, so we may have been the entertainment for some of the guests. Most of the staff came by our table to see for themselves that there actually was a group of diners with all kinds of libations on the tables, ranging from soft drinks, beer and wine to Irish whiskey and Sambuca -- and indeed did have coolers with them! It was quite a site; a gallon jug of wine, a bottle of Jameson, & numerous beer cans all over the table. We were even lucky enough to have Bubba himself come out and say hello to all of us. It was a great dinner, and lots of fun.
We went back to the motel and hung out in Kate and Woody's room. I think we all finally passed out around 11:00.
SATURDAY, July 29
Time to head back to Utah. Kate, Dan and I got up at 5:30 to go and have breakfast at the pancake house. It was really good, and we were the first one's there, so we got prime seating and good service. We were back at the motel by 6:45 and ready to go. We left there at 7:15 and started the long trek back.
At 11:00 we were at Bear Lake (borders between Idaho and Utah), and they are "raspberry country," so we all got raspberry "shakes", and took a look at the lake which was really big and beautiful. We left there and came upon a scenic lookout from the road and pulled in to check it out. It was a beautiful panoramic view which appeared like a painting, with a beautiful blue sky and big puffy white clouds serving as a backdrop to the jewel and pastel colored mountains that seemed to go on to infinity. There were some Navajo Indians selling jewelry here, and some of us bought some necklaces and trinkets. Hopped back in the van and within another couple of hours we were back at Mary and Scott's.
Scott, Woody, and Dan returned the vans. We all hung out at the pool relaxing for a bit, then we got "take-out" dinner from Tony Roma's (the place for ribs).
We were all beat and went to bed early; the Easton contingency was heading out bright and early the next morning for their flights home to Boston. Dan and I slept thru their departure and didn't get to say goodbye, but I'm sure we'll all get together soon to see each others pictures and reminisce.
It was a great adventure that I'll treasure forever.

back to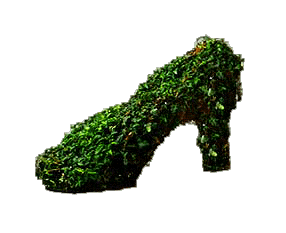 home page
copyright ©1995-2001, AB Mullen